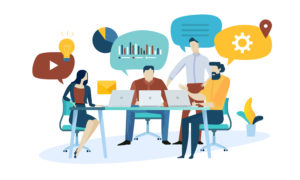 About
We Listen. We Strategize. We Implement.
Our client proposals are customized to suit your unique business needs and goals. We make it our priority to understand your business fully before we recommend the options we see as your best course of action. Once you have decided on your preferred path forward, we will implement a digital marketing strategy designed to produce your desired results.
We built our company on delivering attentive customer service and execution of strategies designed to deliver increased inbound leads and revenue for your business.
Our ideal clients are growth oriented and are ready to make effective marketing a part of their business.
Explore our services to see some of the ways we can help get you where you're going.
A Message from our Founder:
"I decided to start the agency after I noticed a pattern among my business colleagues in my home town of Vancouver, British Columbia. They were all relating the same challenge to me. No one knew where to find trustworthy, professional and effective digital marketing help. I heard horror story after horror story of my colleagues struggling with over promises, outlandish pricing, mysterious billing practices, outsourced content, being shoe horned into the wrong solutions, and more…
It got to the point where I said to myself there is an opportunity here to do something different. So, I created Fairview Business Resources Inc., an organization specifically designed to fill this service gap. The market responded well and we were able to produce some amazing results for our first local customers, who had a variety of different requirements and were from a breath of divergent industries. Having found this opportunity to better provide these important services to our clients it is with great personal pride that I watch their companies grow and expand. Five years later, we have grown and now service clients across Canada. Thanks for taking the time to hear my story and for considering us for your marketing solutions. I hope we can be of service, thank you."
Tristan F. Johnson
FBR Founder
Our Mission
At Fairview Business Resources Inc., it is our mission to improve your revenue growth; from home office to commercial lease, from one location to three, or from local service provider to national franchise company. These changes are a true joy to witness and are what motivates our team to deliver life changing results to our clients each day.
We believe the funds you allocate to marketing for your business are an investment and should pay returns.
Like other investments, it can be challenging to find the right combination that will work for you. Allow us to leverage our marketing & sales management experience to take your business to the next level. We've had the opportunity to witness the transformation of businesses through the power of digital marketing and look forward to doing the same for you.
Our Core Values
We demand the highest level of ethics and customer service from our team members and have these core values to guide us in our professional journeys within the Fairview Business Resources Inc. organization.
Honesty
Integrity
Understanding
Steady Progress
Determination
Never Stop Learning
Fulfillment through Achievement